by Dr. Ann Marie Gorczyca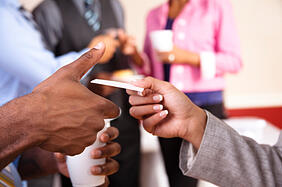 Thanksgiving will soon be here. As we look forward to gathering with family and friends on Thanksgiving Day, November is the perfect time to update, restock, and redistribute business cards to every member of your orthodontic team.
A personalized business card for each team member is tangible evidence that you value this person as an important member of your orthodontic team. A business card also relays a sense of professionalism, respect, belonging, and pride which will exist not only with your team member, but be spread to their family and friends throughout your surrounding community.
"A good business card is like a kick-ass tie; it won't make you a better person, but it'll get you some respect." -Sean Adams
Perhaps it is time for a branding color update or redesign of your office business card in preparation for 2014? Think of your business cards as connection cards and appreciate that they are a powerful marketing tool.
As with everyday and season of the year, as you and your team members travel far and wide, be prepared for the moment when family and friends are gathered and just happen to say "I'm looking for a great orthodontist. Does anyone know one?" Make it easy for the receiver to receive your business card.
May your business cards bring you abundance with much appreciation, not only at Thanksgiving but throughout the coming year.
About the Author
Dr. Ann Marie Gorczyca is author of the book "It All Starts With Marketing - 201 Marketing Tips for Growing a Dental Practice". She is a Diplomate of the American Board of Orthodontics and member of the Angle Society of Orthodontists. Her orthodontic practice is in Antioch, California.