By Kim Barker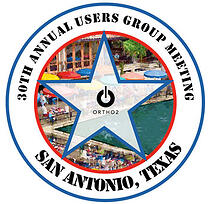 2014 marks the30th annual Users Group Meeting and my personal 20th year of being involved with the event. This year, like always, will be a celebration, but even more so for me. My first hands-on UGM was in 1995, and I was able to attend for the first time in 1998. I haven't missed one since.
Preparing for the UGM takes a long time – from choosing the venue, to coordinating the speakers and exhibitors, and answering attendees' questions. It's kind of like putting together a Broadway show. You work all year to prepare for the big opening night. We learn each year what works and what doesn't (just like those performers in rehearsals) and we try to make each year better than the year before.
One of my favorite parts is putting together the themed party mixer each year. I can still remember my first one – a NASCAR theme while we were in Daytona Beach. Being able to see the fun people are having while at these events make for a fun night for me, too! This year's theme is Spurs, Sombreros, and a Fiesta! It's a Tex-Mex fiesta. We will have décor and entertainment to set the scene, and you don't want to miss your chance at riding Quesero the mechanical bull.
And the best part of the UGM is that it has turned into a family reunion type atmosphere. Several doctors and office staff come year after year, and we always greet each other with a warm hug. I can't wait to see them and I love catching up with them.
These reasons are why I love coordinating the UGM, but they are also the reasons you should consider attending. You get the best speakers to listen to and exhibitors to visit with. But you also get to have fun at our Thursday evening party, see old friends, and make new ones.
Planning and coordinating the UGM is what I love most about my job. I hope you will be able to join us at this year's UGM in San Antonio. If you have any questions about the event, please feel free to contact me at ugm@ortho2.com.
About the Author
Kim has worked for Ortho2 for more than 20 years. She assists the sales team and is also the company coordinator and meeting planner. Her favorite parts of the job are coordinating the Users Group Meeting every year and helping customers. She enjoys spending time with her two kids and granddaughter. With her husband, she volunteers for the non-profit Iowa National Wild Turkey Federation and received a 2010 NWTF Volunteer Award for the State of Iowa.