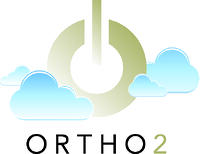 In 2014 the trend of data management seems to be heading towards the cloud. Of course with this sort of tech trend, you'll see an ever-expanding pool of technologies that take advantage of this technology in some way. This blog posting isn't about debunking, trash-talking, or advertising; it's a brief overview of what the cloud means to us at Ortho2, and what it might mean for you as someone who might be shopping for a new practice management solution.
The cloud is often times really just another term for the Internet. I often get asked, "What can the cloud do for me?" or "Why should I consider the cloud?" Simply put, the cloud means you do not have to host any of your own data. Broken down even more, that means no servers, no server maintenance, no complex network setups for your office, no VPNs, no term servers, no to a lot of things. With Ortho2's cloud, we house your practice data in a secured data center, we maintain the integrity of the database, and we deal with the redundant backups.
This does two essential things for your practice: it simplifies your network and it strengthens security. Non-cloud software requires expensive servers and server maintenance – and that's if you only have one practice. Add another office location and you're suddenly looking at virtual private networks, data syncs, or physically carrying your data with you back and forth. With a cloud-based system, all you need is a broadband connection and a computer to run the client. That's it. You could have one, two, or fifty office locations and the setup on your side is always the same.
This brings us to number two on the list – security. If you're running on a local network with your own data hosting then you probably already know about backing up data in multiple places. (And if you aren't backing up your software, contact me about Ortho2's Backup Monitoring Service that can take this worry away from you!) But if you're utilizing the cloud for your database, then backups are taken care of for you. I can't speak to any other cloud product on the market, but the security and backup structure for Ortho2 customers is top-notch. We use an SAS-70 rated facility, which also manages data for large financial institutions and insurance companies. From the moment we convert your data to when you're in the office working off your database, we make sure every bit of your practice's database is maintained and backed up.
The truth is there's a lot being said in the marketplace about the cloud. There are probably as many ways to access it as I could sit here imagining them. We here at Ortho2 built a solution from the ground up with the cloud in mind, and we personally think it's the best. But that doesn't mean you can't call us and get honest and direct answers about how the cloud can help you. Don't let cloud data management confuse or intimidate you, if you've got questions, give us a call and we can discuss them and help get you an answer.
Thanks,
Wes